SourceOne Events, a leading service provider in the events and expo industry, announced promotions to their Orlando branch. SourceOne has established a branch in Orlando to better service the Rosen Hotels & Resorts' three Orlando convention properties.
Kelsey Francis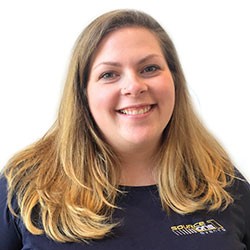 Kelsey Francis has recently been promoted to Account Executive to better assist Rosen Hotels & Resorts. Kelsey had worked on the SourceOne's exhibit services team for over 6 years before being promoted to the Orlando branch. She will be working with the event services team to coordinate all event and expo operations at Rosen Hotels & Resorts' three Orlando properties.
Brian Fox
Brian Fox was promoted to Operations Manager of the Orlando branch. Brian has worked over 18 years in the events and expo industry, with a background in production, systems, flooring and freight. This diverse background enables him to understand the client's needs and the expectations that must be met at these properties.
SourceOne Events is the in-house general contractor at the AAA Four Diamond Rosen Shingle Creek, Rosen Centre and Rosen Plaza hotels in Orlando. Together the three properties comprise an impressive 3,635 guestrooms and more than 700,000 gross square feet of meeting and event space. All three are conveniently located close to the Orange County Convention Center, with Rosen Plaza and Rosen Centre connecting to the center on either side via skybridges and Rosen Shingle Creek less than a few minutes' drive.

According to Leslie Menichini, Vice President, Sales & Marketing, Rosen Hotels & Resorts, the company selected SourceOne Events for its ability to provide the impeccable service standard expected by Rosen Hotels & Resorts' clients and guests.
Because today's meeting and event planners are looking for more simplicity in the ever-changing and complex world of conventions and events, we need an in-house partner who could be nimble, innovative and offer a unique combination of services, as well as supply all of these with the utmost attention to customer satisfaction," said Menichini.  "We've found this with SourceOne Events and couldn't be more excited to begin a new year with this new partner at our side.
For more information about Rosen Hotels & Resorts, visit rosenhotels.com
For more information about SourceOne Events, visit sourceoneevents.com
SourceOne Events' Orlando office location: 2252 Commerce Park Dr., suite 300, Orlando, FL 32819