Topics
Browse Help Topics
SourceOne Logistics Outbound
This form lets SourceOne Events know to handle all of your outbound shipping services through our preferred carrier.
SourceOne Logistics Inbound
This form means that you would like SourceOne Events to schedule a carrier to come to your location and pick up materials to ship to our advanced warehouse for the show. When filling this form out, please make sure the requested pickup date and hours of operation are fully completed.
Shipping Notification Outbound
This form lets us know that you have already pre-scheduled a carrier to come pick up your materials from the show floor to ship out after the show is done. This forms means that SourceOne Events is not handling your outbound shipment, another carrier is. This form allows us to release your items to the carrier you have chosen.
Shipping Notification Inbound
This form is not required but if you have any information related to this form it helps us know more about your shipment incase we need to track it or to see if all of your packages arrived properly.
Material Handling Rates
We will need this form for every shipment we will receive for the show, whether that means shipping to the advanced warehouse or if you are allowed to ship directly to show site during exhibitor move-in. This form just tells us what to expect from your company.
Did you receive my order?
You will automatically receive an emailed invoice confirming your order once it is processed. If you have not received this email, contact our Exhibitor Services team immediately.
What is the difference between shipping and material handling (or drayage)?
Shipping is the transportation of your exhibit materials (freight) to the advance warehouse or event venue via a carrier of your choice or through SourceOne. Material handling, often referred to as drayage, is the movement of your freight from the carrier to your booth and then back to the carrier at the close of the show. Freight handling includes: Unloading your materials from your carrier at our warehouse or on show site Storage at our warehouse for up to approximately 30 days prior to move-in and after move-out Delivery of the materials to your booth The handling of empty containers to and from storage Removal of your materials from the booth for reloading onto your outbound carrier at the exhibit site
Amp (Ampere) – a unit of measurement of electrical current or the amount of electricity; Amps X Voltage = Watts
Back-light – a source of light that illuminates translucent material from behind such as in a tradeshow display graphic light box
Channeling – cutting channels in booth carpet pad to accommodate electrical wiring or computer cabling running under booth carpet resulting in a smooth finish without visible ridges or lumps in the carpet
Dog House – an apparatus that permits placement of multiple 20-amp, 120-volt circuits in one location for equipment or electrical distribution within a booth space
Duplex Outlet – an electrical receptacle with two outlets
Electrical Contractor – the company hired by show management to provide electrical services and equipment to trade show exhibitors
Fiber Optics – the transmission of light through extremely thin fibers of glass, plastic, or other transparent materials often used in tradeshow booths to capture attention
Flood Light – creates a widespread distribution of light perfect for illuminating a tradeshow exhibit booth wall, graphic sign or large product displays
Floor Order – an order for electrical services for a tradeshow booth placed at show site during exhibit move-in and installation; costs are usually significantly higher than for orders placed in advance
Floor Port – a utility box located in the trade show hall floor that contains electrical, telephone, or plumbing connections for distribution of services to exhibit booth spaces
Fluorescent Lamps – lamps which operate by creating an electric arc inside a gas-filled tube; the light color is determined by the type of phosphor coating used in the lamp; usually used in trade show graphic light boxes
Halogen Lamp – an incandescent lamp with halogen gas fill and a quartz glass capsule; used for highlighting trade show graphics or creating environments within the exhibit booth
Hard Wire – a permanent electrical connection such as when an exhibit booth light fixture is permanently connected directly to an electrical source rather than receiving power via a cord and plug
Junction Box – a point of distribution for electrical power to exhibitor booths
Kilowatt – a unit of electrical power equal to one thousands watts or ten Amps (Amperes)
Light Box – an enclosure with lighting fixtures positioned behind or under a translucent facing material; used to highlight trade show booth graphics or general exhibit hall graphics
Low Voltage – electrical currents of 24 volts or less usually used in animation and specialty lighting for trade show displays
Power Strip – an electrical unit with multiple electrical outlets
Quad Box – an apparatus with four electrical outlets
Raceway – metal or insulated rubber tubing used for channeling electrical wires within a trade show exhibit
Spotlight – a lamp that provides a defined circle of light used to highlight trade show display graphics or products within a trade show exhibit booth
Voltage – the practical unit of electric pressure; the pressure that will produce a current of one ampere against a resistance of one ohm
Wire Management – managing the placement of electrical wires or computer cables within a trade show exhibit so they are accessible to the exhibitor but hidden so as not to detract from the appearance of the exhibit
Watt – the basic unit of measurement of electricity
Carpenter – a skilled worker hired by an exhibitor to unpack, install/setup/assemble, dismantle/take down/teardown, and/or re-pack trade show exhibit properties
Craftsperson – a skilled worker or laborer who provides services such as installation & dismantle of displays at a trade show facility
Dead Time – time when a tradeshow worker or laborer is unable to perform work due to factors beyond his or her control
Dismantle/Tear Down/Take Down – to take down or teardown (dismantle) and repack a trade show display
Double Time Labor (DT) – work performed on overtime (OT) on the trade show floor and charged at twice the published rate for Sundays and holidays; the application of double time rates varies from state to state
Exhibitor Appointed Contractor (EAC) – any company other than the designated official contractor hired by an exhibitor to perform trade show services such as display installation and dismantle, plant rental, photography, audio visual rental, etc.
Four-hour Call/Four-hour Mini – minimum amount of time for which union labor must be paid for work performed on the trade show floor for an exhibitor
Installation/Setup/Assembly – the process of assembling a trade show display according to specific drawings or instructions
Installation Contractor – a company that coordinates and supervises workers who install and dismantle tradeshow exhibits
Installation & Dismantle (I&D) – the set up or assembly (installation) and takedown or teardown (dismantle) of trade show exhibits
Labor – workers who are contracted to perform services on the tradeshow floor
Labor Agreement/Union Contract – a contract between an employer and a union outlining the terms and conditions of employment, union status, and processes for settling disputes during the contract period; also known as Collective Agreement
Labor Call – the time specified for workers to report to the exhibit space to begin setting up or dismantling a tradeshow display
Labor Desk – locations in the exhibit hall where exhibitors can place orders and/or check in when they are ready to secure labor to begin setup or dismantle of their display booth
Overtime (OT) – work performed on the trade show floor outside normal business hours including holidays and weekends; OT rates are usually substantially higher than ST rates and vary from state to state
Right to Work – a law securing the right of employees to decide for themselves whether or not to join or financially support a union
Set Up/Installation/Assembly – the installation or assembly (setup) of trade show exhibit components per specific setup drawings or instructions to create a trade show display booth
Set-up Drawing – a set of instructions and/or drawings for the proper installation of a tradeshow exhibit
Straight Time (ST) – work performed on the trade show floor during normal business hours at a standard hourly rate; rates and business hours vary from state to state
Union – an organization of workers whose purpose is to protect workers' rights and increase bargaining power with an employer on issues such as wages, work hours, and benefits
Union Steward/Shop Steward – an official elected by union co-workers to oversee a particular union's work in a tradeshow facility and resolve disagreements over union jurisdiction
Work Rules – regulations that specify conditions, work hours, and pay structure of a craftsperson's labor on the trade show floor
Work Time – the period of time for which a laborer or craftsperson is paid for work performed for a tradeshow exhibitor
Combustibles
Literature on display shall be limited to reasonable quantities (one-day supply). Reserved supplies shall be kept in closed containers and stored in a neat and compact manner in a location approved by the Fire Department. All exhibit and display cartons must be stored in an approved drayage area. If show is under 24-hour approved manned security program, automobiles are allowed to retain 1 gallon or less of fuel, and gas caps must be taped. Batteries are to be disconnected and taped.
Fire-Retardant Treatment
All decorations, drapes, signs, banners, acoustical materials, cotton, paper, hay straw, moss, split bamboo, plastic cloth and similar materials shall be flame-retardant to the stratification of the Fire Department. Booth identifications banners and signs shall be flame-retardant unless smaller than 1232 square inches (28" x 44") in separated from other combustibles by a minimum of 12" horizontally and 24" vertically. Oilcloth, tarpaper, nylon, and certain plastics materials cannot be made flame-retardant, and their use is prohibited.
Obstructions
Aisles and exits as designated on approved show plans, shall be kept clean, clear and free of obstacles, Booth construction shall be substantial and fixed in position in specified areas for the duration of the show. Easels, signs, etc. shall not be placed beyond the booth area into aisles. Firefighting equipment shall be provided and maintained in accessible, easily seen locations and may be required to be posted with designating signs.
Booth Construction
Booth, platforms and space dividers shall be of materials that are flame-retardant or rendered so, satisfactory to the Fire Department representatives. Covering for counters or tables used within or as a part of the booth shall be flame-retardant. All electrical wiring and apparatus will be of a 3-wire UL type approved.
What are the best criteria to use when deciding whether to buy or rent a display?
Trade Show rental exhibit displays are a good option if you are a first-time exhibitor or only exhibit at a few shows a year. Purchasing exhibit displays become expensive with customizations, so make sure you know you will get the use out of it if you do decide to purchase your own.
My company goes to only one trade show a year and we don't want to make a big investment on a display. Do you offer trade show rental exhibit displays?
Yes, we offer a full inventory of Exhibit Rentals and Custom Exhibits. Rentals are a great option if you attend fewer than three or four shows a year. By renting a display, you don't have to make a large investment. If you attend more than four shows a year, you are probably better off purchasing your own trade show exhibit display.
How much do trade show exhibit rentals cost?
The costs of trade show exhibit rentals vary with size and features. Generally, an exhibit rental is about 25 to 30 percent the investment of purchasing the same trade show display.
My company has never exhibited at a trade show. What kind of rental display do you recommend for new exhibitors?
The best type of display or trade show graphics depends on your company, budget and exhibiting objectives. Whatever you need, we offer a full rental inventory, from exhibit rental, custom portable exhibits, custom modular displays, trade show accessories, such as counters, literature racks, flooring and more. Visit our Department page for all the rental options we offer.
Does SourceOne Events have a showroom? How can I view SourceOne's inventory? What type of items does SourceOne rent?
SourceOne has an extensive rental inventory that is available online on our Rental pages. Our inventory has hundreds of items that are all offered for rent. Please visit our Rental pages to view all our products.
Advance Shipments to Warehouse
Rates include unloading freight, storing shipment at warehouse for up to 30 days (materials stored beyond 30 days will incur additional storage fees), reloading onto trucks and delivered to the show site, labor will unload freight and delivery to booth, picking up your empty containers, storing, and returning empty shipping containers, and reloading freight onto carrier for return to your specified destination from exhibit site.
Onsite Shipments to Show Site
Rates include unloading freight and delivery to your booth location. Once your booth is setup our labor will pick up your empty containers, store them, return empty shipping containers after the event, and reload freight onto carrier for return to your specified destination from exhibit site.
Crated Material
This type of shipment is either a crate or a skid of exhibit materials. This type of shipment requires a pallet jack or forklift to unload and reload at the dock and no other additional handling.
Uncrated Material
This type of shipment is either shipped loose, pad-wrapped and/or unskidded materials or machinery. This shipment needs extra labor and equipment to handle.
Late Shipments
A surcharge will apply to shipments not arriving within the published dates.
Empty Storage
A charge per crate, skid or carton applies when SourceOne Events handles the storage and return of empties from a shipment not received by SourceOne Events and therefore not subject to material handling charges.
Please Note: All exhibitors must adhere to the Fire Regulations- storage behind booth back wall drape is strictly prohibited.
Warehouse Storage
Shipments arriving at the warehouse more than 30 days ahead of the begin date or remaining 30 days after an event is over will incur storage fees.
Return To Warehouse
Transportation of freight to the warehouse after the show at the exhibitor's request or freight that was forced off the show floor incurs 'return to warehouse' fees.
Special Handling Material
This type of shipment is delivered by carrier which requires additional handling, such as ground unloading, side door unloading, constricted space unloading, designated piece loading, and stacked shipments. UPS, DHL, Federal Express, etc. are included in this category due to their delivery procedures. If your freight is too tall to fit through the venue dock, doors, or elevators, and SourceOne Events has to break down your materials.
Backwall – the wall panels that make up the back of a trade show exhibit
Booth Size – the size of the floor space occupied by an exhibit; usually in 10′ x 10′ increments Custom wooden crate for trade show exhibit components
Crate – a wooden container that is custom jigged and felt-lined for safe transport and storage of trade show exhibit components
Custom Display / Custom Exhibit – a trade show display or exhibit designed and constructed to meet the specific requirements of the exhibitor
Custom Rental Display / Exhibit – a rental display using existing exhibit components that are customized to the exhibitor's specifications for one time or limited use by the exhibitor
Display Builder – a company specializing in the fabrication of trade show exhibits
Exhibit Designer / Producer – a company specializing in the design and fabrication of trade show exhibits
Folding Panel Display System – an exhibit system of lightweight hinged panels that unfold to create a trade show display and fold flat for packing; usually finished in fabric on both sides
Hardwall Exhibit – a trade show exhibit with walls and components constructed of a solid material rather than fabric or other flexible materials
Header – a sign or other structure prominently located at the top of an exhibit often used to display the exhibit company's logo or tagline
Knockdown – an exhibit structure or component that is assembled on site for the trade show and then disassembled for efficient packing and shipment
Modular Exhibit – a custom exhibit or a portable display system designed and constructed for use in various booth configurations and sizes, i.e. components from a 20'x30′ exhibit can be used to create a 10'x20′ exhibit and/or a 10'x10′ exhibit
Panel Display System – an exhibit system of lightweight prefabricated panels of various sizes that connect to each other to form a trade show display
Popup Display – a lightweight trade show display with an expanding framework that supports fabric or graphic panels; accessories include lights, shelves, monitor cut-outs, and case-to-counter podiums
Portable Display / Exhibit – a lightweight display that can be moved by the exhibitor without the use of a forklift or dolly
Prefab Display – an exhibit that has been pre-built for ready installation on the trade show floor
Rental Booth – a pre-designed trade show booth offered to exhibitors for rent as a complete booth package
Self-Contained Exhibit – a display with a shipping case or cases that are used as an integral part of the exhibit at a trade show
Stock Exhibit – a pre-designed trade show exhibit modified to meet particular requirements of an exhibitor
Table Top Display – a trade show display designed for use on a table top or similar surface
What happened to my empty containers?
Empty stickers can be picked up at the SourceOne Exhibitor Service Center or from SourceOne employee on the show floor. Each container that you wish to keep should have an empty sticker with your company name and booth number. SourceOne employees will picked up the containers throughout the move-in days and are stored during the show.
What can they do for me onsite at the Exhibitor Service Center?
We can help you with a variety of questions regarding your show and the execution of the event. The SourceOne Exhibitor Services Center is also readily available to assist with several different show time concerns like orders, shipments, services, labor, invoice balance, empty stickers, material handling, loading, etc.
What should I bring to show site?
You may wish to bring a copy of your order confirmations if you had ordered through our Online Ordering Center and any copies of your media if you had sent it to the SourceOne's Graphics and Audio Visual departments. Also, please bring copies of all documents stating what you had shipped, how it was shipped and any tracking numbers provided by your carrier. Lastly you may also want to bring any information regarding outbound shipping after the event including your carrier and destination.
When will my carpet and furnishings arrive in my booth?
If you had placed an order for Carpet through SourceOne Events, it should be in your booth on the first day of move-in. If you do need electrical services, please be sure to make note on the Exhibitor's Kit form so that we can ensure that the electrical is installed prior to carpet installation. SourceOne Events' furnishings and Specialty Furniture will arrive according to the show's schedule. Please review the Exhibitor's Kit for show scheduling and dates.
What do I do when I arrive at show site?
When arriving to the show site, you should go to your assigned booth and check that everything you ordered is there. Also be sure to check that all your shipments have arrived. If you ordered electrical services make sure it has been installed and working properly. And, if you ordered carpet from SourceOne Events, make sure it has been installed. If you find anything is missing, please contact SourceOne Events' Exhibitor Services or stop by the Exhibitor Services Center for assistance. You may also speak with any SourceOne Events employee on the show floor.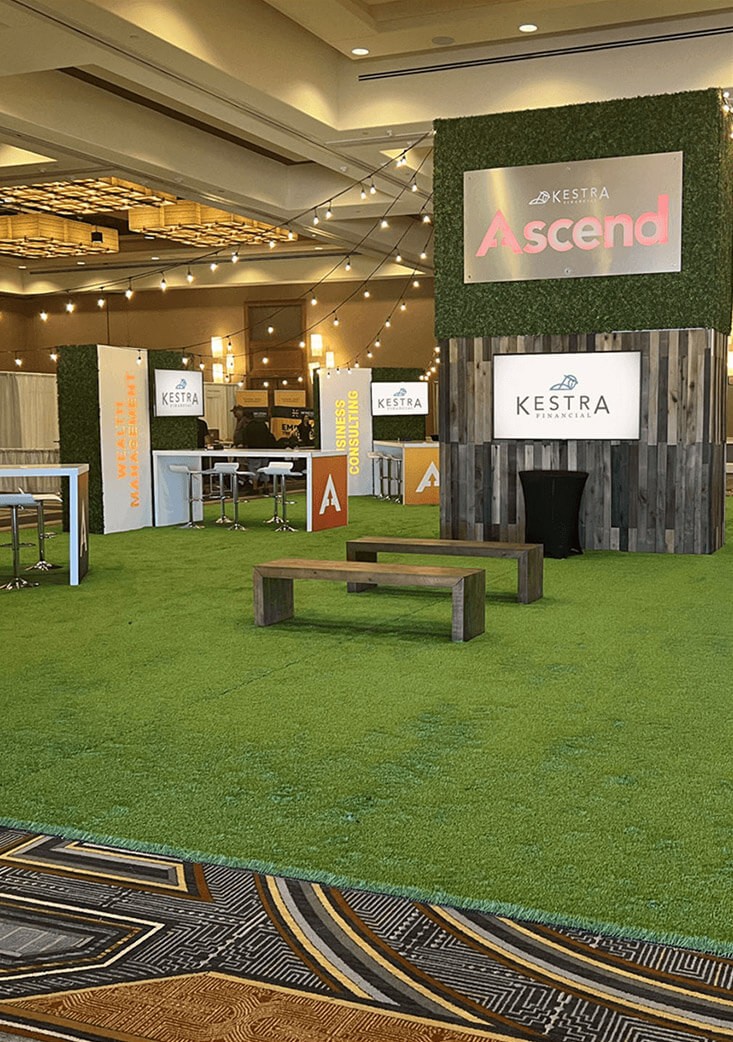 Contact Us
Contact Us
Tell us about your next event, and a SOE Specialist will reach out to bring your event to life!