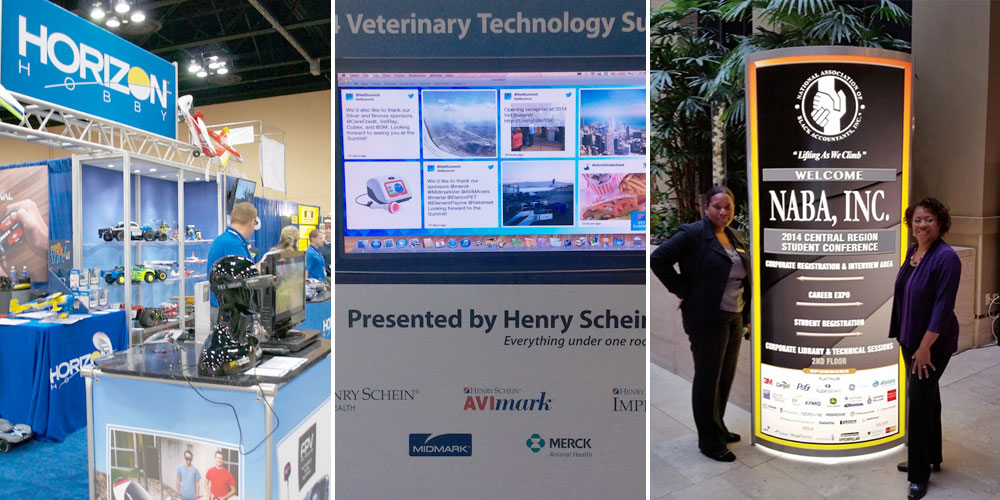 Summer has ended and Fall has arrived and SourceOne Events is on a trade show roll!
September was an unbelievably exciting month! Our services helped drive the success of some very exciting shows and events at the Renaissance Schaumburg Convention Center Hotel. The Windy City Shoe Traveler Show partnered retailers with shoe vendors showcasing the latest styles in footwear. The Veterinarian Technology Summit brought practice management software technology solutions to veterinarians, practices, hospitals, technicians and front desk staff. GM Fleet & Commercial Service North Central Region Commercial Conference filled the hall with a wide range of vehicles, products and technology for dealers and associated businesses. We also electrified shows like the SPE Thermoforming Conference and the Laser Institute of America.
Outside of the Renaissance, we were equally busy! NFP Insurance Services PartnersFinancial® Ideas Sales Forum shared with attendees benefit solutions delivering life insurance and wealth management solutions for high net worth individuals. The Enterprise Risk Management Symposium discussed risk topics and industry challenges, as well as provided support among the ERM practitioners. Flight simulator experts from around the world attended the FSEMC annual conference in Tulsa, Oklahoma. The conference identifies technical solutions to engineering and maintenance issues resulting in immediate long-term savings and increased efficiency for simulator users.
October is here and we are only months away from 2015! Some of the highlights in our next newsletter will be iHobby Expo, Gamma Iota Sigma, A.S.A.P. Conference, Mecum Auto Auction, Auto Glass Week, Lynn Sage Conference, CFDD, United Dance Merchants, Captive Live…just to name a few!
Please be on the look out for a special edition newsletter showcasing our new website launch. It will tell you what's new and share the enhancements to our current products and services. And as always, please don't forget to Like…Tweet…Win! Our next big winner could be you!
Until the October Newsletter finds its way to you, may all your events and trade shows be safe and successful!